"Yeah but why are these players fat with cellulite? You just don't see it on the men."
"These female sports are just not up to scratch. No one is watching because they're boring. Not to be that person but yeah. Stay in your lane ladies. The kitchen awaits."
"Netball is a joke. These women complain about wanting more money when they don't do nearly as much work as male athletes. Get a grip."
"These female players who complain about pregnancy policies are ridiculous. Don't get pregnant if you're an athlete."
"Not sure why netball needs money anyway. Literally no one cares or watches it. It's stupid and it's for little girls."
"Not gonna lie, I have zero interest in netball, but when you show me the hot players in the ads, I'm almost tempted."
This is just a sample of the sickening comments publicly posted on social media targeting some of Australia's finest athletes.
In a special video for International Women's Day, this Wednesday March 8, Fox Netball asked some of the stars of Suncorp Super Netball to read and respond to these examples of despicable social media abuse that is not new – but certainly remains far too prevalent.
A 2019 study by Plan International (a global gender equality charity) analysed over 1,300 comments on popular Facebook posts shared by major Australian sports news media over a 12 month period – including Fox Sports, Wide World of Sports, 7 Sport, 10 Sport, and ABC Grandstand.
The results were staggering. Sportswomen received three times as many negative comments as men (26.98% compared to 8.52%). More than a quarter of all comments about sportswomen were derogatory or negative. Over 23 per cent of negative comments about sportswomen were sexist in nature (i.e. 'the kitchen awaits'), while the sexualisation (14%, e.g. 'hot players in the ads') and belittling (20%, i.e. 'no one cares or watches') of sportswomen were also prevalent.
From shock and disgust to defiance, here's how Super Netball stars reacted to the comments.
Fever win pre-season tournament! | 01:16
"Yeah but why are these players fat with cellulite? You just don't see it on the men."
Thunderbirds midcourter Tayla Williams said: "Comments like this – imagine a young girl seeing that growing up, and being like: 'they've got cellulite, they're saying how bad cellulite is – I can't have cellulite.' The impact that has long-term on people that are seeing that, that's just disgusting. I don't like that."
West Coast Fever goal attack Sasha Glasgow said: "I think women already struggle enough with internal body image issues. For us to be women that are comfortable in our bodies, to play sport that we love, to be healthy – I think cellulite is natural, it's normal! And sometimes you can work as hard as you can and it's just going to stay there.
"Also, why keep comparing us to men when we are strong women who play the game that we love? That's crazy, oh my god."
Her teammate, midcourter Verity Simmons said: "I hate that … I think especially in women's sport, it's amazing to see the different bodies that are out there that get the chance to run around and be professional athletes. I also love that we've got so much flexibility in the size we can be. Tall, short, big, small, whatever that may be, we bring a different strength to the game."
Get all the latest netball news, highlights and analysis delivered straight to your inbox with Fox Sports Sportmail. Sign up now!!!
Diamonds sweep Quad Series | 01:55
"These female sports are just not up to scratch. No one is watching because they're boring. Not to be that person but yeah. Stay in your lane ladies. The kitchen awaits."
Australian Diamonds and Sunshine Coast Lightning shooter Cara Koenen said: "Please, please join us in this century!"
Simmons said: "Woah. Wow. OK. Let's go to the kitchen first – men and women cook! It's not how(ever) many years ago. And two, there's so much attendance and so many views. We've got some record numbers out there! People love netball and love women in sport. That's heavy."
"I'm really glad that I don't go on social media and see this stuff," she added.
Superstar England Roses and NSW Swifts shooter Helen Housby joked: "I can say this, our head coach Briony (Akle) is a terrible cook actually, so the kitchen's not for her! Plenty of the girls in our team can't cook and their boyfriends are better cooks than the girlfriends. So the kitchen awaits – but we are going to burn the dinner."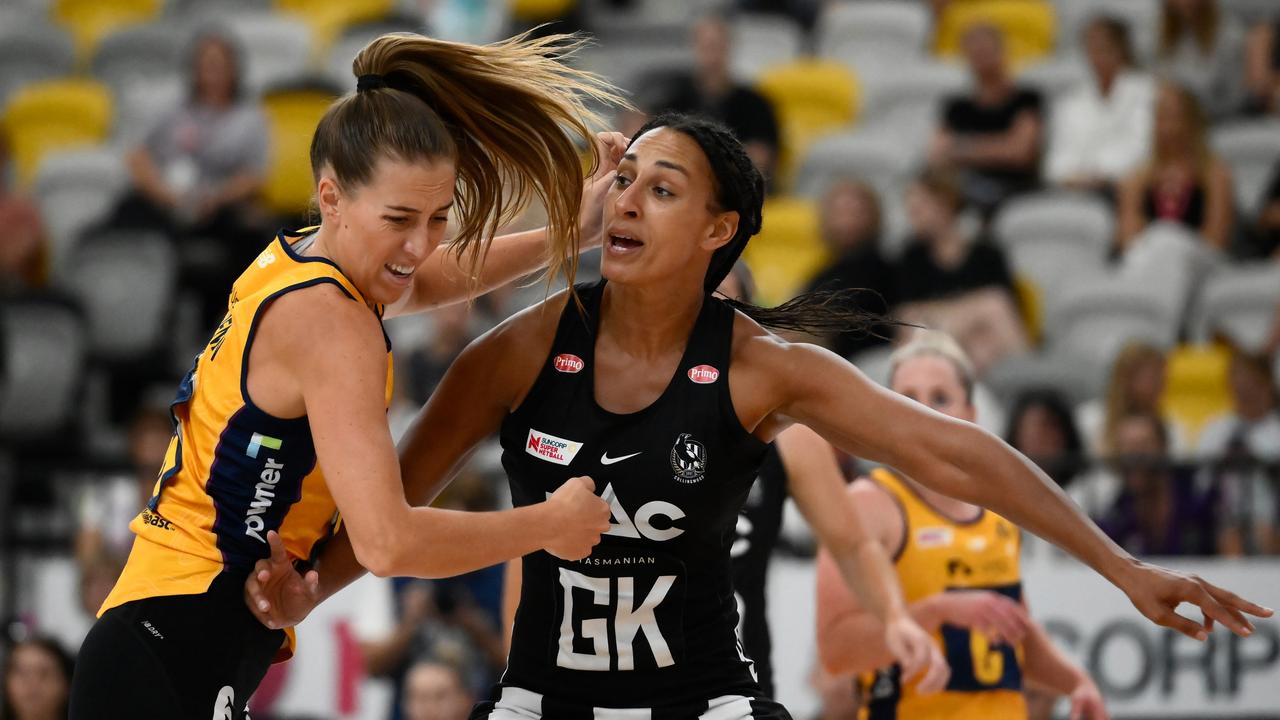 Collingwood Magpies double centurion and England Roses great Geva Mentor said: "Wow. Really? Wow. I hope that no one is in the kitchen cooking for you and you're having to put on your microwave meal."
She continued: "It's just rude, it's so backwards thinking … I just think, 'stay in your lane ladies'? Like, thanks for calling us ladies. But you know what? We're strong, we're empowering, we give everything a crack! And to be honest, we can probably do more than particularly this person who has written [this] can do!"
"Netball is a joke. These women complain about wanting more money when they don't do nearly as much work as male athletes. Get a grip."
Fever's Simmons said: "If we want to look at that, let's compare the hours we do, the games we do, the grassroots – the sport is growing, it is massive! Of course there needs to be more money flowing through because the sport keeps on growing.
"We're the most participated sport in Australia and we've got the best league in the world. Wake up!
"These female players who complain about pregnancy policies are ridiculous. Don't get pregnant if you're an athlete."
Firebirds captain Kim Ravaillion said: "Right, so you're telling us to give up on our dreams and goals? I'm one person who has actually had a baby … Our female athletes should be encouraged to have kids and come back and play the sport that they love.
"If anything, once you've had a kid, I feel like I've come back better than I was before."
Her teammate Remi Kamo said: "It makes no sense. Obviously everyone has a right to do with their body what they will, particularly women who want to have babies. In our team we have Ravi (Ravaillion) and Gretel (Bueta, Diamonds shooter), who have both had babies and come back stronger, better athletes. So there's no reason why you shouldn't!"
Another one of Super Netball's super mums, Fever's Glasgow, said: "So I'm not allowed to be a mum? Oh my god, okay," she laughed.
Adelaide's Williams said: "Wow. Don't get pregnant if you're an athlete. So you're meant to just give up all your life? Wow, that's f***ed … that person doesn't deserve to have social media. That's cooked."
Diamonds star Bueta expecting child | 00:34
"Not gonna lie, I have zero interest in netball, but when you show me the hot players in the ads, I'm almost tempted."
Thunderbirds' Matilda Garrett said: "That's so disgusting and disturbing that people are looking at us like that."
Her teammate Williams said: "What the f***? Like the state of the players or what they look like has anything to do with their ability to play netball – and (is) definitely not something we think about at all."
Firebirds defender Ruby Bakewell-Doran said: "Gross. Really? I just don't understand what the point is of even commenting something like that. We're a lot more than hot players. I mean, we work pretty hard so a comment like that is a bit wasted."
Fever's Glasgow said: "I just hope that these people don't have daughters, or women in their lives that want to come and speak to them or talk to them and care about netball. Because there are so many people that care about women's sport! Oh my god, I'm blown away by these."
"Not sure why netball needs money anyway. Literally no one cares or watches it. It's stupid and it's for little girls."
Koenen declares with a laugh: "I'm six foot four, I'm not a little girl!"
Firebirds gun Bakewell-Doran says: "Well, it is for little girls. It's for quite a lot of girls and boys and men!"
Teammate Kamo said: "It is for little girls, actually. It's great for little girls! They look up to us, we're inspirational. It's quite important for little girls to have role models in the media and have sportspeople to aspire to be.
"So," she says, giving the middle finger. "Sorry," she laughed.
Glasgow says: "All I wanted growing up was to be able to watch the netball, live stream, whatever. To be able to do that for young girls now, and be the precedent to set, it's exciting. So if you're not going to jump on board, I don't want to hear it!"
'This is nuts!' Ferns denied CLEAR goal | 01:07
One reply to the disgusting comments perhaps sums things up perfectly.
Collingwood Magpies and Australian Diamonds midcourter Kelsey Browne declared: "I think what I want to say off a lot of these comments is that it's just painful to still think we're in 2023 and we're having these arguments. There have been such incredible achievements by women's sporting teams for a number of years now. The Australian Diamonds have been at the top of their game for the last however long!
"I just don't understand that the respect isn't there. We can do countless hours of work, and talk and educate, but I think it comes down to the individual and understanding.
"As I've said so many times, come to a game. I challenge you to come to a game. Before you pass judgment, come and watch a game. Come and see how impressive some of our athletes are and I think you'll have a different opinion."